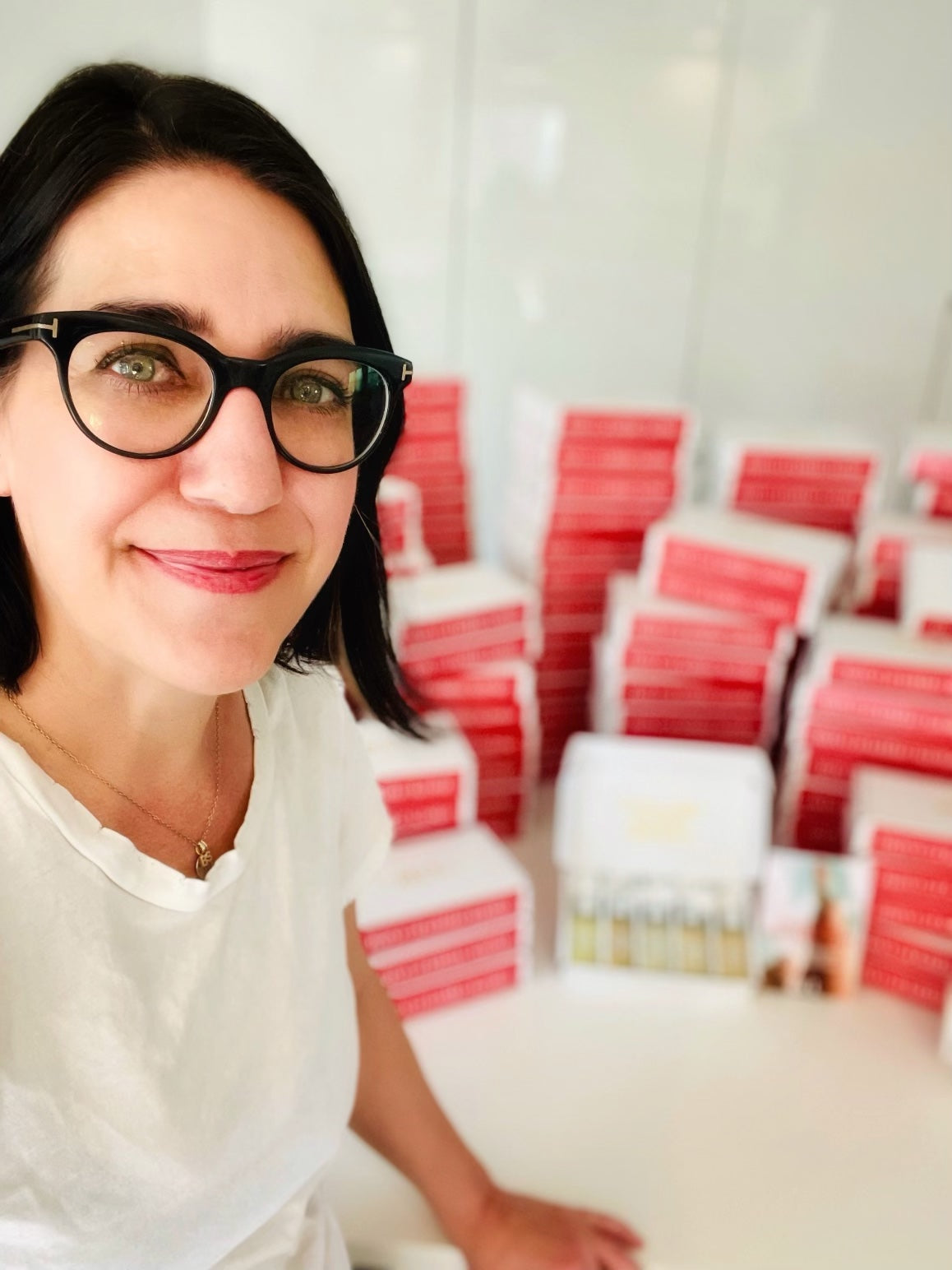 A few months ago I was asked if I wanted to put my bubble bath product in the GRAMMY gift bags! Having not done any press or outreach or being able to actually promote on IG or FB because of the name 'slut' (that's a whole other story!), I thought this would be a good opportunity to properly launch the company. 
We decided to do kits with (4) 2 oz. bottles of four of our most popular fragrances. I reached out to multiple vendors but quickly realized there would not be enough time to create custom boxes, at least, not in the way that would be putting our best foot forward for our very first product event/launch. So we pivoted to a 1oz. bottle kit. We already had a sample kit in a simple Kraft corrugated box with white text (eco-friendly and fully recyclable!) so I wanted to do the same thing but, then, another road block...those boxes were backordered (supply chain grrrr). So we pivoted again and chose the same 1oz bottle box but in white.  And, I'm glad we did because it made the presentation more GRAMMY-esque as we used gold for the print on the boxes and red paper tap to emulate a red carpet. Sometimes issues turn into happy endings and this was one! The packages are simple but effective and still 100% recyclable which is very important to me. And, the focus is the bubble bath, not the packaging.
We had thousands of 1oz glass bottles professionally labeled from. NJ vendor! Thank God, because that would've been a real b*tch and my family would've killed me! Then, my friend, John taught me how to screen print! I had screens made and burned at a couple local NJ places and off to the the screen printing presses we went. It took a day to screen print 200 boxes. It was fun. But more importantly, I learned something new!! Now I can screen print anything! Well, probably?! We picked up the bottles, filled them with 5 of our favorite fragrances, shrink wrapped the caps with safety seals (my sister, Emelia, is the best at this LOL), and started folding boxes and inserts! After a lot of scrapes and scratches 190 boxes were erected and an assembly line of family members filled and taped them up! Thank you fam!
Now, 190 boxes were ready to be shipped just before Christmas 2021. What a relief! Now we wait. And...then...Omicron! Another damned variant of stupid COVID and the GRAMMYs were pushed from end of Jan to April 3rd. I was bummed, mostly because it's very hard for me to contain my excitement and now I had to do that for 3 more months! OMG. But, alas, here we are. The GRAMMYs are this coming Sunday, April 3rd. Today I woke up to loads of press spouting the BathSlut name and it made me very happy! It's nice to see all this hard work come to fruition! Now, I just need loads of people talking about BathSlut and our amazing product and for this buzz to equal more sales! We cannot promote on IG or FB because of the name 'slut' (which is RIDICULOUS and I've tweeted this to Meta and Sheryl Sandberg multiple times!) so it's very important people talk about us and help us grow. We appreciate every single one of you and hope you buy the product and love it as much as we do! It truly is amazing!! Self-care is so important and being sexy is too :-) Love yourself and love your body! And ENJOY!!
Very Gratefully Yours,
Rene
Chief BathSlut